It is very rare that consumers remain loyal to a brand, but when they do, that loyalty becomes almost untouchable. This is evident when it comes to the Hard Rock Hotel and Casino, which has several hotels, casinos and restaurants in several different parts of the world. Of course then, it only makes sense that it was proposed that one be opened in Atlantic City, the USA's second biggest gambling city, after Las Vegas. This resort was to have plenty to offer its guests, including the likes of state of the art casino games, a wide variety of meals and supreme comfort in their homes away from home. For further information on what this establishment was meant to offer, see below.
Development
Atlantic City's Hard Rock Hotel and Casino was initially conceptualised as a boutique hotel. However, new regulations pushed the project further, so that developers and contractors had no choice but to plan its expansion in two separate phases. The first phase was to see the resort open 200 rooms and reveal 5000 square metres of casino space in which players and guests could gamble. But by the second phase of development, a further 4300 square metres of casino space were to be added, as were 650 extra hotel rooms. This was all to be finished off with a spa, a museum and a number of restaurants, including a beach-facing Hard Rock Café.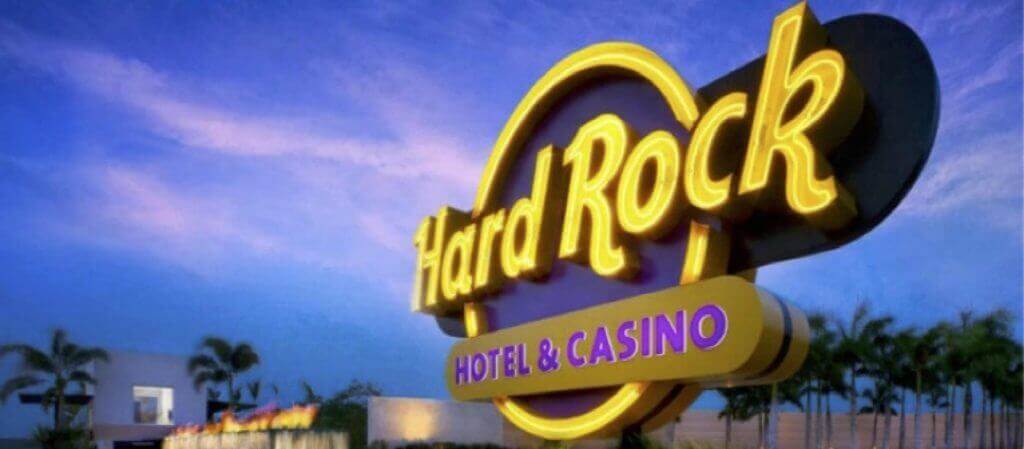 A Change Of Plans
Initially, construction of the Hard Rock Hotel and Casino in Atlantic City was to start on 15 July 2012. The CEO of Hard Rock International announced this date in November of 2011. However, this was not to be. By March of 2012, Hard Rock needed to secure an extension in order to obtain permits for the environment. Should all have gone according to plan, building on the site would then have begun in September instead of July. While they were granted the extension they had wanted, Hard Rock decided not to go through with the project due to the unstable market conditions at the time. In fact, a newly opened resort in Atlantic City had faired quite badly already at this stage.
The Café At The Trump Taj Mahal
While tourists and players in Atlantic City aren't able to experience the resort that was, unfortunately, never actually built, they are still able to enjoy the brand at one of their famed cafes. Based at the billion-dollar Trump Taj Mahal, this café offers patrons all of the classic, rock 'n' roll attitude that the casino resort would have. However, it is worth noting that the industry in Atlantic City is a competitive one, which is why in February 2016, the Trump Taj Mahal was bought over by another billionaire, Carl Icahn.
Even though the Hard Rock Hotel and Casino in Atlantic City was not meant to be, there are a number of them in existence all over the world, all of which have managed to stand the test of time and offer great casino bonus offers for Canadians.